Harvesting Hope for Hospice Quinte
Charity Car Rally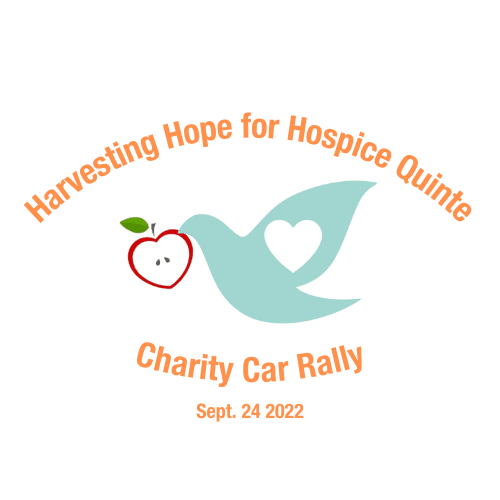 Small Seeds of Gratitude will Produce a Harvest of Hope
September 24, 2022 | 10:00 am – 12:30 pm
Day of Event Registration: 9:30 am
Host Site: Grills Orchard
$50 per car | $10 per individual meal ticket
($50 charitable tax receipt included)
Come enjoy a fun family-friendly car rally scavenger hunt throughout Quinte West & Belleville! Fill your car (as many as your car can seat) with friends and/or family and join us for this timed event!
This year's event features an amazing range of prizes, at Grills Orchard and at all the destinations, including a robust silent auction, raffle draws, 50/50 draw, an exquisite artisan market quilt sale, and an Autumn-themed children's activity area located at the host site from 9:30 am – 3:30 pm.
Don't miss your chance to register today!
Thank You to our Sponsors!
Bountiful Crop Sponsor | Investment: $500
*10 Exclusive Sponsors*
Signage featured at the event host-site
Invitation to set-up a tent/table and be recognized as a VIP guest on event day
Company logo on 2022 Harvesting Hope for Hospice Car Rally page on Hospice Quinte's website with a link to your company's website/social media page
Company recognition as Bountiful Crop Sponsor, pre- and post-event in minimum of 2 e-news blasts, social media (Facebook, Instagram, Twitter & LinkedIn), and paid advertisements as indicted below:

Naming recognition on alternating radio commercial tags as being "sponsored in part by" your company. Minimum of 10 radio tags featured collectively on Mix 97.1, 800 CJBQ, COOL 100.1, 95.5 FM & 91.3 CJLX
Volunteers' T-Shirts
Participants' Swag Bag
Destination Activities
Generous Harvest Sponsor | Investment: $250
*Unlimited Sponsors*
Signage featured at the event host-site
Company logo on Harvesting Hope for Hospice Car Rally webpage, with link to your company's website/social media page
Company recognition as Generous Harvest Sponsor pre and post-event, recognition in minimum of one e-news blast, social media (Facebook, Instagram, Twitter & LinkedIn), and paid advertisements as indicted below:

Volunteers' T-Shirts
Participants' Swag Bag
Destination Activities
To learn more about our Harvesting Hope for Hospice Quinte sponsorship opportunities, please contact