EVERY MOMENT COUNTS
Hospice Quinte changes the lives of the terminally ill, their families, and the bereaved for the better by offering them support and companionship through visiting hospice services and support groups.
All Hospice Quinte programs and services are provided at no charge by compassionate and well-trained staff and volunteers.
Our service area includes Quinte West, Belleville, Tyendinaga Township, Deseronto, and the Tyendinaga Mohawk Territory.
Our mission is to provide hospice palliative care and bereavement support services for our region.
Hospice Quinte has been providing compassionate care in our communities since 1985.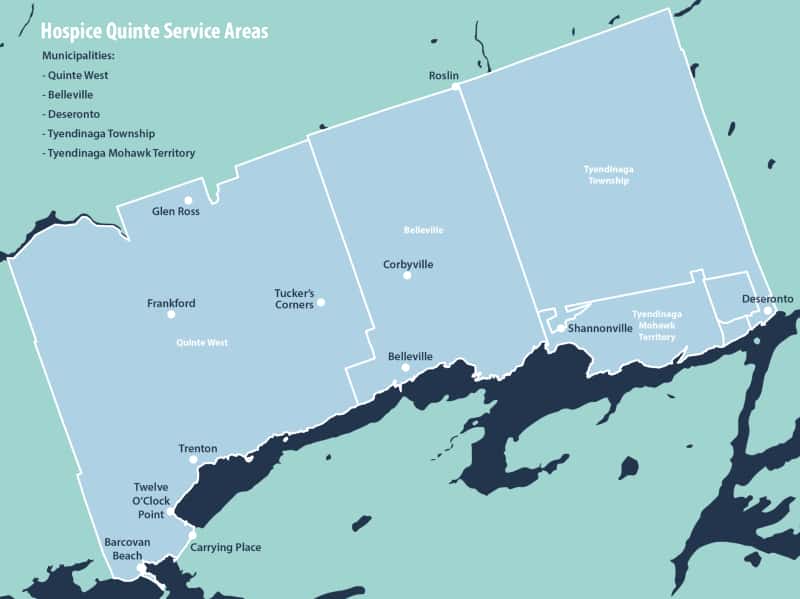 We offer Visiting Hospice, Caregiver Support, and Bereavement Support Services,
as well as Education and Educational Resources about Hospice Care.
LATEST NEWS & INFORMATION
Lisa McMurter
Hospice Quinte would like to extend a huge heart-felt "THANK YOU" to everyone who came out to participate in the first ever Halloween For Hospice Fundraising Car Rally, on Saturday, October 24, 2020. Congratulations to 50/50 ticket winners! Click for more information.
Lisa McMurter
The 16 members of the Quinte West Professional Firefighters Association Local 1328 have made their largest charitable donation ever, helping Hospice Quinte 'Make It Happen' with an incredibly generous $10,000 gift in support of the Heart & Home Building Campaign.
Lisa McMurter
Unprecedented times call for unprecedented measures. That's the mantra of the dedicated team at McDougall Insurance & Financial who went above and beyond by hosting their annual charity golf tournament virtually this year in order to raise $20K for Hospice Quinte's Heart & Home Building Campaign in support of the future Hospice Quinte Care Centre.
Lisa McMurter
Hospice Quinte is joining the Canadian Hospice Palliative Care Association and the Canadian Network for Palliative Care for Children, this October 13th, to raise awareness about the importance of pediatric hospice palliative care, in honour of Canada's first ever National Children's Hospice Palliative Care Day.