WHAT'S NEW AT HOSPICE QUINTE
EVERY MOMENT COUNTS
Hospice Quinte changes the lives of the terminally ill, their families, and the bereaved for the better by offering them support and companionship through visiting hospice services and support groups.
All Hospice Quinte programs and services are provided at no charge by compassionate and well-trained staff and volunteers.
Our service area includes Quinte West, Belleville, Tyendinaga Township, Deseronto, and the Tyendinaga Mohawk Territory.
Our mission is to provide hospice palliative care and bereavement support services for our region.
Hospice Quinte has been providing compassionate care in our communities since 1985.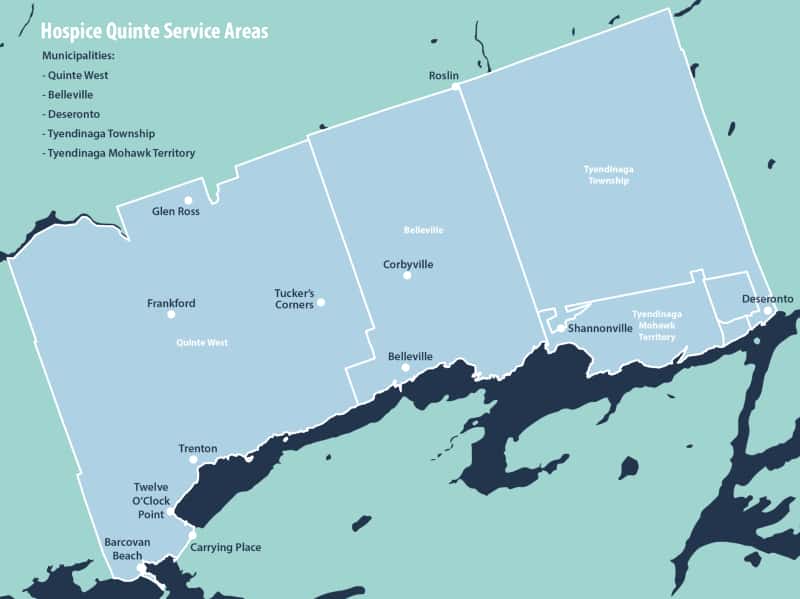 We offer Visiting Hospice, Caregiver Support, and Bereavement Support Services,
as well as Education and Educational Resources about Hospice Care.
LATEST NEWS & INFORMATION
Lisa McMurter
Hospice Quinte is aware that the corona virus (COVID-19) is spreading and we want to ensure that the individuals we support, our volunteers, and our staff are at minimal risk.
Lisa McMurter
Last Friday, Hospice Quinte launched what the organization is calling Operation Cheer, a new initiative spearheaded by Hospice Quinte staff to spread a little cheer across the Quinte Region.
Lisa McMurter
Hospice Quinte is celebrating the twentieth annual Hospice Palliative Care Week from May 4th – 10th with individuals and organizations across Canada. It is a time to celebrate and share the achievements of hospice palliative care throughout the nation, look at shortcomings and create bridges for these gaps.
Lisa McMurter
Hospice Quinte joins individuals and organizations across Canada to participate in National Volunteer Week each year, a coast-to-coast-to-coast celebration of the commitment, dedication, generosity and selflessness of our country's almost 13 million volunteers. This year National Volunteer Week will be celebrated from April 19th to April 25th.
CHANGE A LIFE TODAY
"The care of the dying demands all that we can do to enable patients to live until they die."
–Dame Cicely Saunders