EVERY MOMENT COUNTS
Hospice Quinte changes the lives of the terminally ill, their families, and the bereaved for the better by offering them support and companionship through visiting hospice services and support groups.
All Hospice Quinte programs and services are provided at no charge by compassionate and well-trained staff and volunteers.
Our service area includes Quinte West, Belleville, Tyendinaga Township, Deseronto, and the Tyendinaga Mohawk Territory.
Our mission is to provide hospice palliative care and bereavement support services for our region.
Hospice Quinte has been providing compassionate care in our communities since 1985.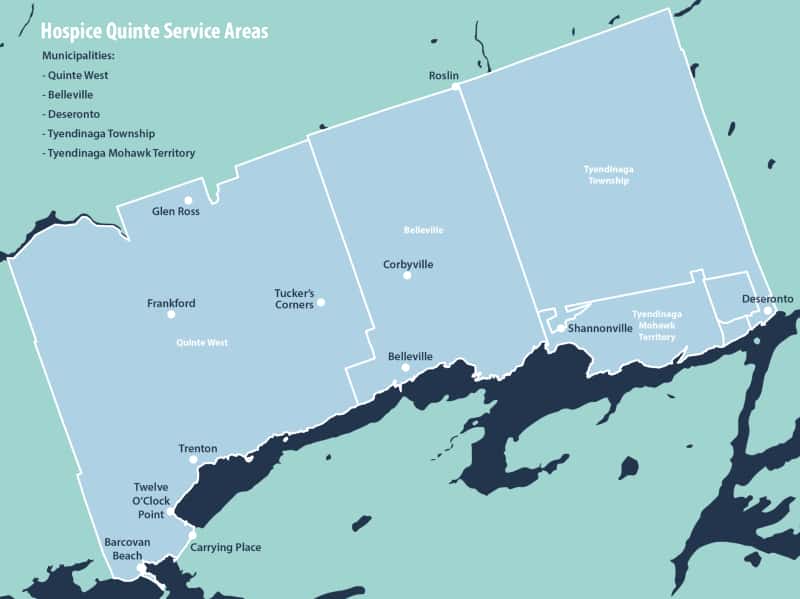 We offer Visiting Hospice, Caregiver Support, and Bereavement Support Services,
as well as Education and Educational Resources about Hospice Care.
LATEST NEWS & INFORMATION
Lisa McMurter
Family of the late Peter Smith presented Hospice Quinte with a charitable gift of $50K in loving memory of the local businessman. Smith's wife Vicki, son Matthew, and daughters Darcy and Carly were proudly joined by their friendly staff to celebrate the legacy of a man who was dedicated to the betterment of community across the greater Quinte region, and beyond.
Lisa McMurter
Did you know that approximately 25% of Canadians end up providing care for family members and friends suffering from a chronic illness or disability at some point in their lives? Unfortunately, unpaid caregivers are given little to no training before or while providing the care that they do. Learn more in this week's Changing Lives Podcast.
Lisa McMurter
Hospice Quinte friend, Brigitte Rittinger, is on a mission to raise $2k that will be donated to Hospice Quinte's Heart & Home Building Campaign! To date, Brigitte has raised $1k through two Covid-19 compliant fabric sales she's held at her home. Brigitte has now created 12 one-of-a-kind fabric and denim afghans that she will be selling to help her reach her fundraising goal.
Lisa McMurter
In Canada, the US, Australia, and the UK, October 15th is Pregnancy and Infant Loss Awareness Day. This is a difficult topic to cover as many people suffer these types of losses in silence. Learn more in this week's Changing Lives Podcast.