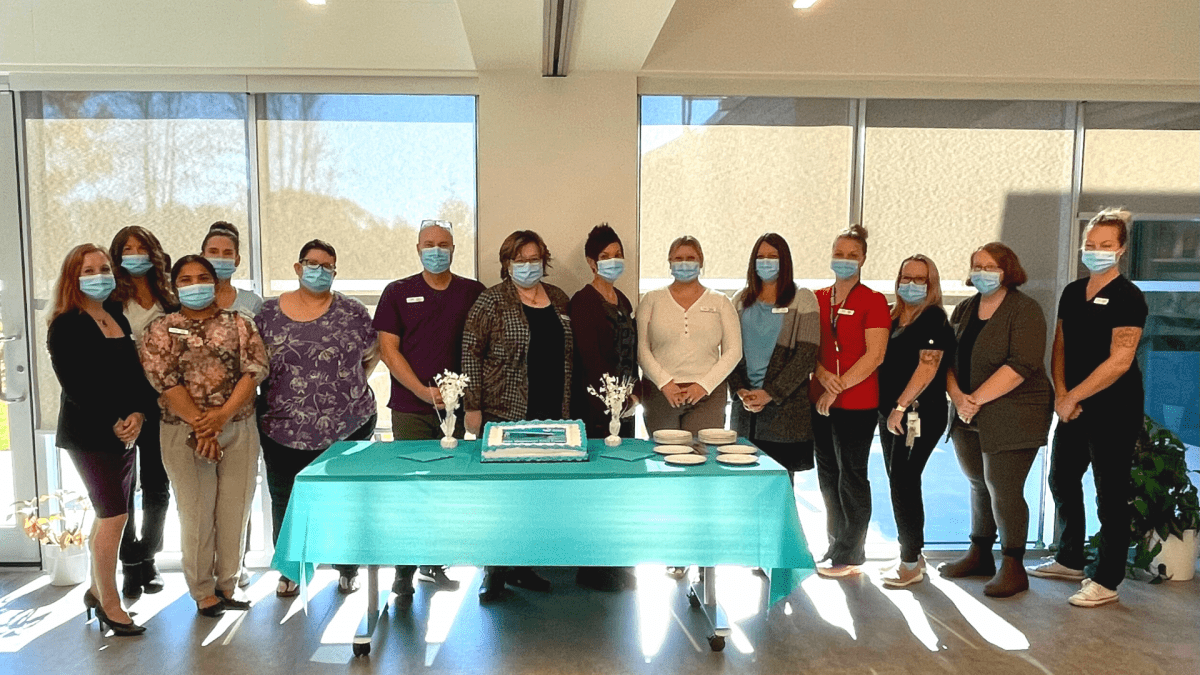 Hospice Quinte Staff with 1st Year Anniversary Cake
Today, Hospice Quinte's Stan Klemencic Care Centre (SKCC) celebrates the first of many anniversaries to come! On October 25, 2021, the Stan Klemencic Care Centre opened its doors to its first hospice resident and in doing so enhanced the landscape for hospice palliative care in Quinte.
"Since the opening of our Stan Klemencic Care Centre, Hospice Quinte has served 191 terminally-ill residents, and their families, saving approximately 1505 hospital bed days," says Hospice Quinte Executive Director, Jennifer May-Anderson. "According to the Canadian Institute for Health Information, the average admitted palliative patient in an Ontario hospital costs $1,200 per day which translates into savings of over $1.8 million for our local hospitals in just one year!"
The Stan Klemencic Care Centre features six private suites for people requiring end-of-life care. Residents of the SKCC are supported 24/7 by a specialized team of nurses and personal support workers, assisted by physicians, volunteers, and staff. A wide range of equipment is available at the facility to ensure safe, compassionate and comfortable care is provided for the terminally ill. The facility is designed to accommodate smudging ceremonies, meal preparations, family meetings, and more. There is no cost to the residents, or their families, for any of the services provided by Hospice Quinte.
"Today marks a momentous occasion in the history of Hospice Quinte," says Kim Lander, President of Hospice Quinte's Board of Directors. "On behalf of the Board, I wish to extend deepest gratitude to our outstanding partner agencies, generous donors, tireless volunteers and devoted staff for their caring commitment to providing exceptional hospice palliative care in our community."
Hospice Quinte provides individuals, their families, and caregivers with compassionate end of life care, by attending to their physical, psychosocial, and practical needs, and offering empathetic care to those who are grieving through visiting hospice services and support groups. All Hospice Quinte programs and services are provided by compassionate, well-trained volunteers and staff at no charge to the individual or their family.
Hospice Quinte serves a population of over 110,000 in Quinte West, Belleville, Deseronto, Tyendinaga Township and the Tyendinaga Mohawk Territory. To find out more visit HospiceQuinte.ca.