EVERY MOMENT COUNTS
Hospice Quinte changes the lives of the terminally ill, their families, and the bereaved for the better by offering them support and companionship through visiting hospice services and support groups.
All Hospice Quinte programs and services are provided at no charge by compassionate and well-trained staff and volunteers.
Our service area includes Quinte West, Belleville, Tyendinaga Township, Deseronto, and the Tyendinaga Mohawk Territory.
Our mission is to provide hospice palliative care and bereavement support services for our region.
Hospice Quinte has been providing compassionate care in our communities since 1985.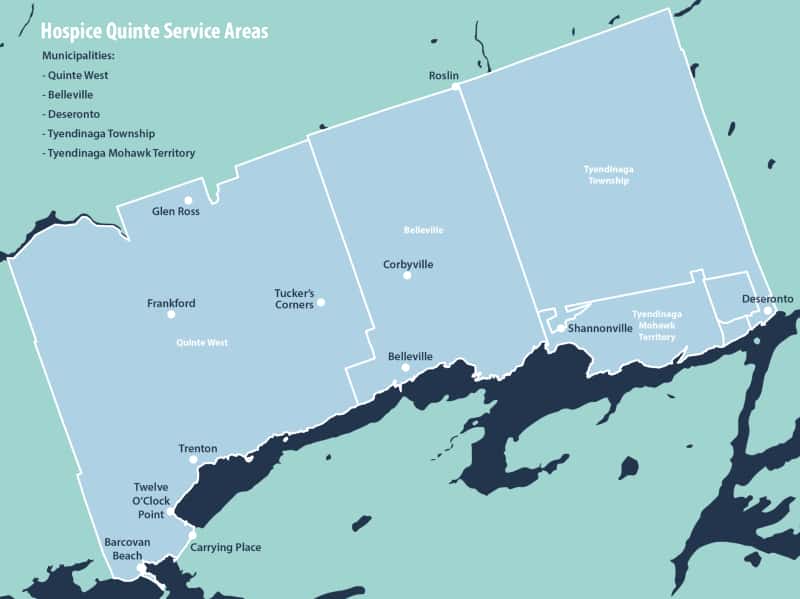 We offer Visiting Hospice, Caregiver Support, and Bereavement Support Services,
as well as Education and Educational Resources about Hospice Care.
LATEST NEWS & INFORMATION
Jennifer May-Anderson
Have you ever wondered what to say to a friend or family member who has just experienced a significant loss? In the moment, it can be difficult to find the right words to express your condolences. But the fact remains that you should still say something to express your sympathy and show your support.
Jennifer May-Anderson
This year, May 5th to the 11th marks the nineteenth annual Hospice Palliative Care Week – our time to celebrate and share achievements of hospice palliative care throughout the nation, while also shedding some light on areas needing improvement.
Jennifer May-Anderson
Death has become a very difficult subject for many to discuss in modern society. It's a part of every person's life, and yet we don't receive much education in that area, and many people find it challenging to even find someone to talk to about it, when the time comes.
Jennifer May-Anderson
When someone you love has died, it raises all kinds of issues and questions that can be difficult to process. After the initial period of shock there is often a period of strong and conflicting emotional responses which include anger, sadness, guilt, denial and depression.
CHANGE A LIFE TODAY
"The care of the dying demands all that we can do to enable patients to live until they die."
–Dame Cicely Saunders