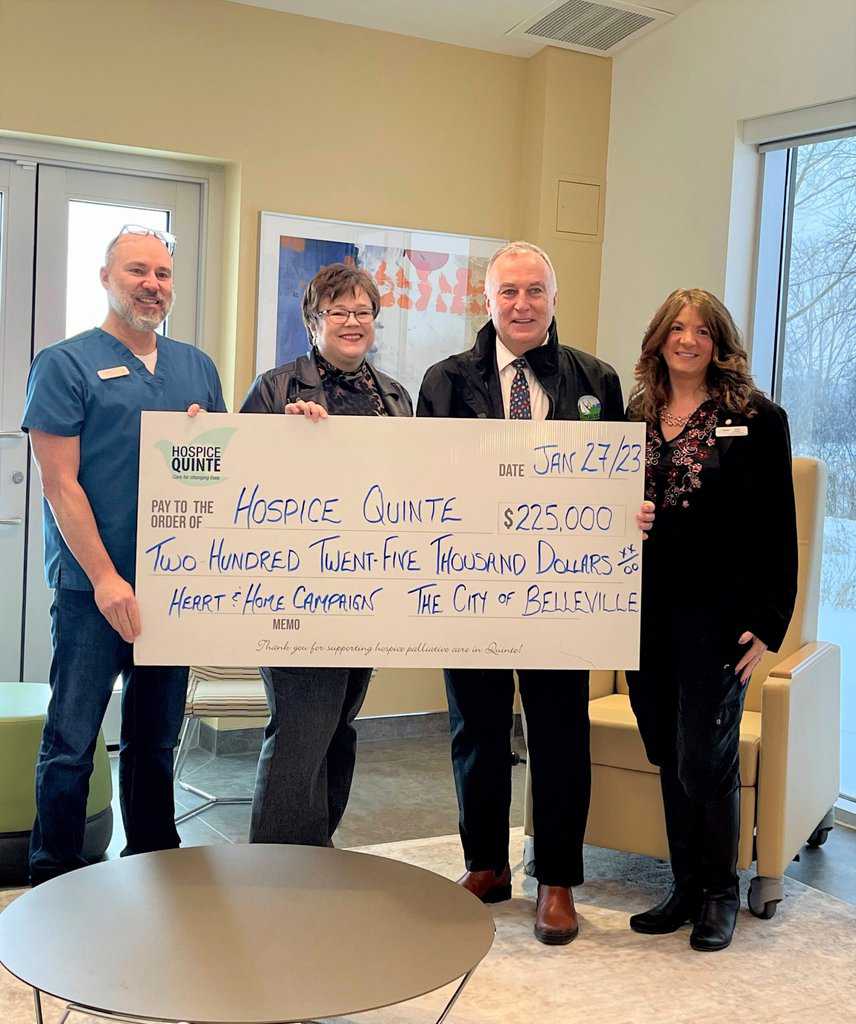 PHOTO ATTACHED (L-R): Hospice Services Manager Perry Simard, HQ Executive Director Jennifer May-Anderson, Belleville Mayor Neil Ellis, Donor Relations & Communications Manager Sandi Ramsay
Hospice Quinte is delighted to have received $225,000 from the City of Belleville today. This latest contribution is part of the municipality's $1M commitment that helped Hospice Quinte establish its six-bed, world-class hospice residence known as the Stan Klemencic Care Centre. To date, the City of Belleville has paid $775,000 toward the 6-year pledge.
"The City of Belleville is proud to support Hospice Quinte and the crucial work that they do for our community," says City of Belleville Mayor Neil Ellis. "The Stan Klemencic Care Centre has provided so many individuals, their families, and caregivers with the comfort and support they need during their end-of-life journey since opening in 2021. Our Council is pleased to honour the $1 million commitment from the City, and know these funds have and will go a long way in providing residents with compassionate care."
Hospice Quinte Executive Director, Jennifer-May-Anderson, says "The support we have received from our local municipalities including Belleville, Quinte West and Tyendinaga Township, is a testament to our local governments' commitment to providing the best possible hospice palliative care for our community."
"Thanks to support like this, our families, friends and neighbours throughout the Quinte region can receive essential comfort and focused care at the end-of-life, enabling them to die with dignity and respect," adds May-Anderson.
Hospice Quinte provides individuals, their families, and caregivers with compassionate end of life care, by attending to their physical, psychosocial, and practical needs, and offering empathetic care to those who are grieving through visiting hospice services and support groups. All Hospice Quinte programs and services are provided by compassionate, well-trained volunteers and staff at no charge to the individual or their family.
Hospice Quinte serves a population of over 110,000 in Quinte West, Belleville, Deseronto, Tyendinaga Township and the Tyendinaga Mohawk Territory. To learn more visit HospiceQuinte.ca.