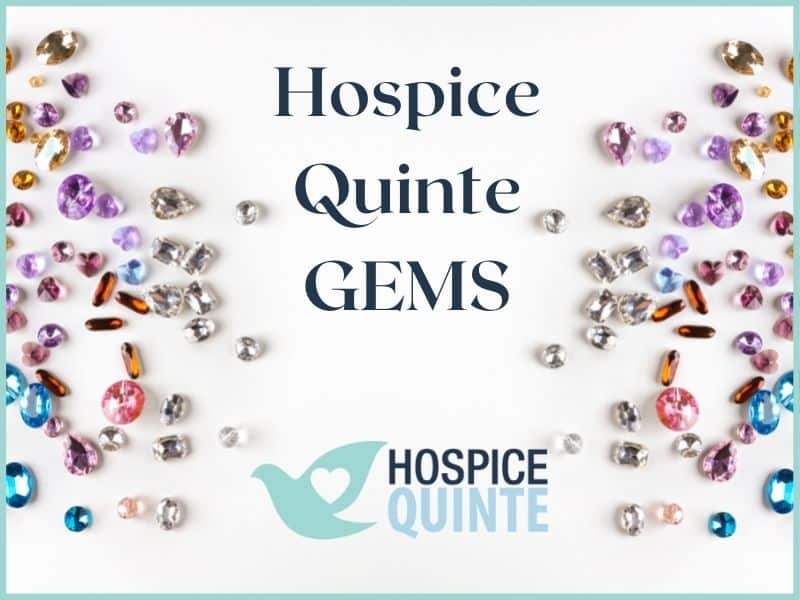 Monthly giving is the backbone of Hospice Quinte and supports all aspects of the care we provide every day in our communities.
When you become a monthly donor, you are helping us provide no-cost high-quality hospice palliative care for people in their homes and in the Stan Klemencic Care Centre as well as providing much needed support to those caring for loved ones at end of life and those who are grieving.
We believe Hospice Quinte's monthly donors are our "GEM"s because they Give Every Month.
You can choose from following GEM Giving Levels:
Diamond ($500+ per month)
Ruby ($400-499 per month)
Emerald ($300-399 per month)
Sapphire ($200-299 per month)
Amethyst ($100-199 per month)
Opal ($50-99 per month)
Topaz ($10-49 per month)
How Your Monthly Gift Helps
$10 provides a day of meals for a resident
$15 covers utility costs for one day for a resident
$25 provides a day of supplies for residents
$35 provides care for a community client for one week
$50 provides a day of meals for residents
$150 provides a week of supplies for residents or cares for one community client for a month
$525 covers all costs for a day of care for a resident
Four reasons to become a monthly donor with Hospice Quinte
Feel good knowing you are making an ongoing impact
Budget your financial impact by giving 12 smaller gifts a year versus one larger one
Pre-authorized monthly payments are easy and convenient
You can upgrade, change, or cancel your monthly gift at any time
How to Become a Hospice Quinte GEM
Visit our online donation form
Choose an amount you would like to give each month
Select "Recurring" Donation
Complete the rest of the donation form