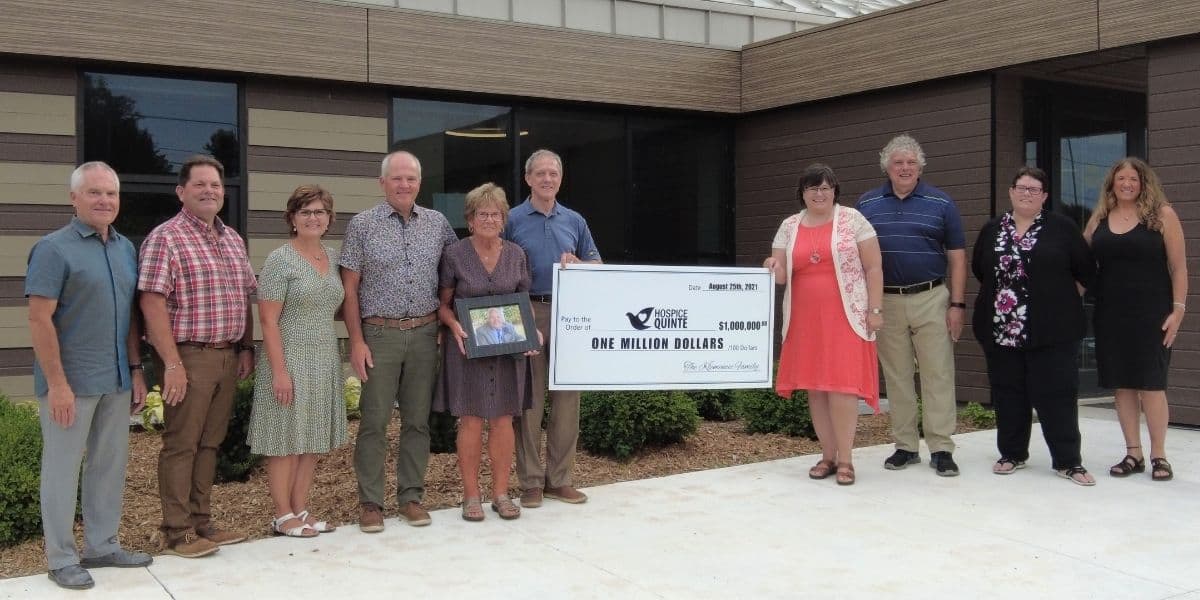 L-R: Klemencic Family (Mark, Tim, Barb, Andy, Paula & Tony), Hospice Quinte's Executive Director Jennifer May-Anderson, Board President Bill MacKay, Corporate Services Manager Louise Wood and Donor Relations & Communications Manager Sandi Ramsay
Hospice Quinte is delighted to unveil a new name for its hospice palliative care centre in honour of a $1-million-dollar gift made by the Klemencic family. The remarkable contribution, donated in loving memory of the family's patriarch, will see the new centre named the Stan Klemencic Care Centre.
"This extraordinary gift of $1-million-dollars by the Klemencic family has filled us with immense gratitude," says Hospice Quinte Executive Director, Jennifer May-Anderson. "We are overjoyed to be unveiling the official name of our new world-class facility as the Stan Klemencic Care Centre, in honour of a great man who was deeply loved and respected throughout our community."
Stan Klemencic, a former refugee from Slovenia, was well-known locally for his many business successes and his passion for farming and standardbred horses. Following a life well-lived, Klemencic passed away on June 16, 2021 at the age of 94. In his last months of life, Stan and his family benefitted from respectful and well-managed home care which provided a dignified end of life. Although it was a difficult time, Stan's family recognized that to provide this level of care, the dedicated efforts of many individuals are required.
"The experience we went through collectively at the end of Stan's life motivated our family to support Hospice Quinte in their good work of providing quality end-of-life care," says Stan's daughter, Barb Toffelmire. "It was the wish of myself, my four brothers and our mother Paula, that we honour Dad's memory with a long-lasting legacy by supporting the community he was proud to call home."
The million-dollar contribution made by the Klemencic family brings Hospice Quinte to 92.7% of its $9.5M capital campaign goal.
Construction of the Stan Klemencic Care Centre, located on Old Highway 2 across from Bayside Secondary School, is well underway with opening slated for mid-October. To learn more about the Stan Klemencic Care Centre and how you can help Hospice Quinte raise the remaining $650K required to complete its capital campaign please visit HospiceQuinte.ca.
Hospice Quinte provides individuals, their families, and caregivers with compassionate end of life care, by attending to their physical, psychosocial, and practical needs, and offering empathetic care to those who are grieving through visiting hospice services and support groups. All Hospice Quinte programs and services are provided by compassionate, well-trained volunteers and staff at no charge to the individual or their family.
Hospice Quinte serves a population of over 102,000 in Quinte West, Belleville, Deseronto, Tyendinaga Township and the Tyendinaga Mohawk Territory.