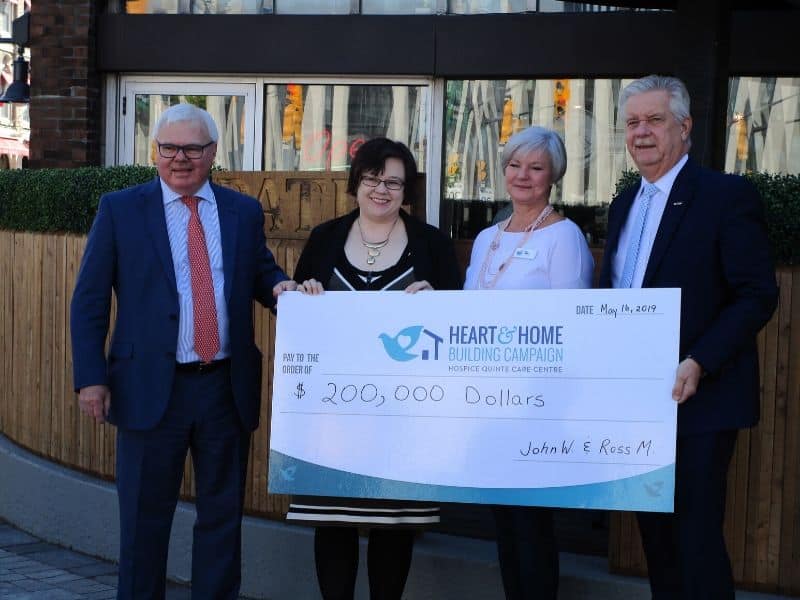 Heart and Home Campaign Launch: L-R, Ross McDougall, Co-Chair; Jennifer May-Anderson, Executive Director; Kim Lander, Treasurer; John Williams, Co-Chair
It was with great sadness that Hospice Quinte learned of John Williams' sudden passing. We had the honour of working closely with John over the past year as he Co-Chaired our Heart & Home Campaign in support of the new Hospice Quinte Care Centre.
Executive Director Jennifer May-Anderson says, "John was extremely passionate and committed to the project, realizing a great need in the community for such a facility. He led the campaign charge, along with his Co-Chair Ross McDougall, with great enthusiasm and determination that was matched by few others."
John was instrumental in raising over 50% of the $9.5M campaign goal in well under a year – a true testament to his powerful personality and willingness to be wherever, whenever and do whatever it took to ensure success.
Board President Bill MacKay says, "Hospice Quinte found a true friend in John and we are honoured to be joining the many other legacies he has left our community. We will be forever grateful for his willingness to take a leadership role in the Heart & Home Campaign."
Funeral arrangements are through Rushnell Family Services.
If desired, donations to Hospice Quinte (Heart & Home Building Campaign), Eastminster United Church, or Camp Quin-Mo-Lac would be greatly appreciated by the family.