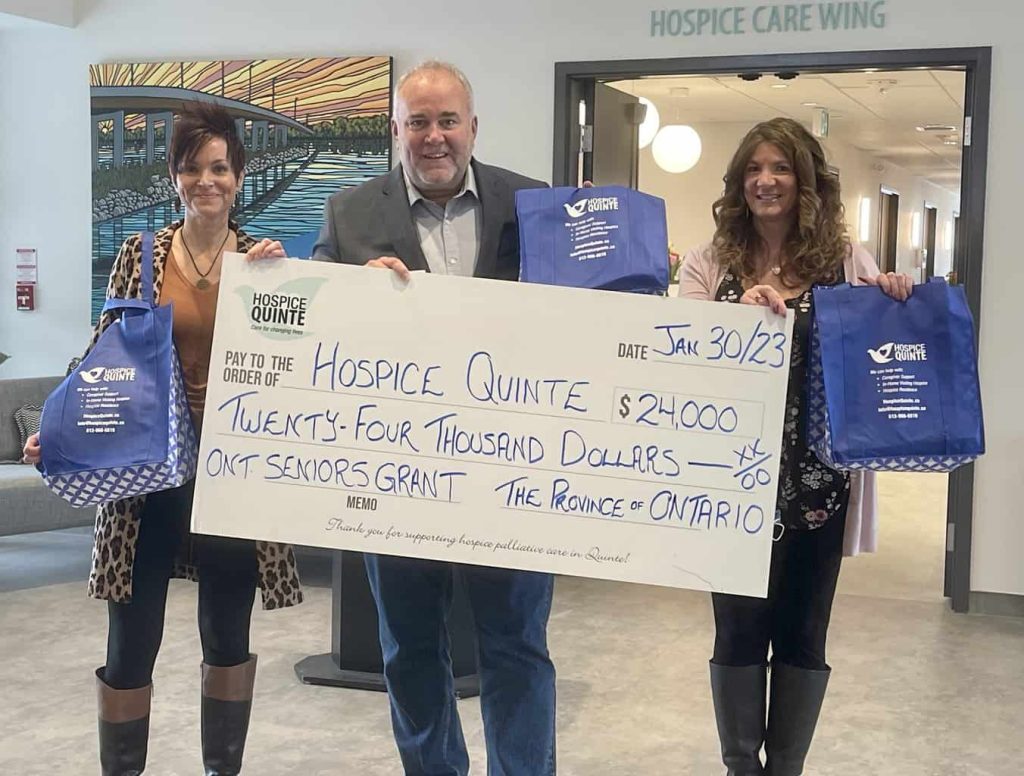 Hospice Quinte is hosting a series of Advance Care Planning seminars for adults 55 and older thanks to $24,000 in funding received from Ontario's 'Seniors Community Grant' program. An Advance Care Plan (ACP) is a way for people to express what they wish to take place should they become incapable of consenting to or refusing treatment, or personal care. This includes deciding who will make decisions on one's behalf should that happen.
Executive Director Jennifer May-Anderson says, "With increasing options at end-of-life, every effort must be made to ensure that as many Canadians as possible, particularly seniors, engage in timely and comprehensive Advance Care Planning, and are supported in doing so."
"The end-of-life journey can be overwhelming for people and their families. It is important to have supports available in our community to ensure they focus on making the best of the time they have," says Todd Smith, MPP for Bay of Quinte. "With this $24,000 from our government's Seniors Community Grant, Hospice Quinte is well positioned to provide that assistance through programming and resources related to advance care planning, caregiver support, grief and bereavement."
The Advance Care Planning process often includes discussions with family members, friends, and other trusted sources, and covers a wide range of scenarios and treatments, including end-of-life care, chronic conditions, and long-term care needs.
"Hospice Quinte's Advance Care Planning seminars teach older adults how to plan appropriately so their preferred care, should they become unable to speak for themselves, will be honoured," adds May-Anderson. "We applaud the province's 'Seniors Community Grant' program for investing in this important work and thank them for the meaningful support."
"Every year, Seniors Community Grants provide essential funding to hundreds of community organizations serving older Ontarians," says Raymond Cho, Ontario Minister for Seniors and Accessibility. "Our government is pleased to support Hospice Quinte in delivering this valuable project for adults age 55+."
Hospice Quinte's Advance Care Planning seminars are free to attend and can be accessed both in-person and online. The next in-person ACP workshop is slated for February 9th from 1:00 pm – 2:00 pm or 4:00 pm – 5:00 pm. Seating is limited and registration is required in advance. Visit HospiceQuinte.ca to learn more and register.
Hospice Quinte provides individuals, their families, and caregivers with compassionate end of life care, by attending to their physical, psychosocial, and practical needs, and offering empathetic care to those who are grieving through visiting hospice services and support groups. All Hospice Quinte programs and services are provided by compassionate, well-trained volunteers and staff at no charge to the individual or their family.
Hospice Quinte serves a population of over 110,000 in Quinte West, Belleville, Deseronto, Tyendinaga Township and the Tyendinaga Mohawk Territory. To find out more visit HospiceQuinte.ca.