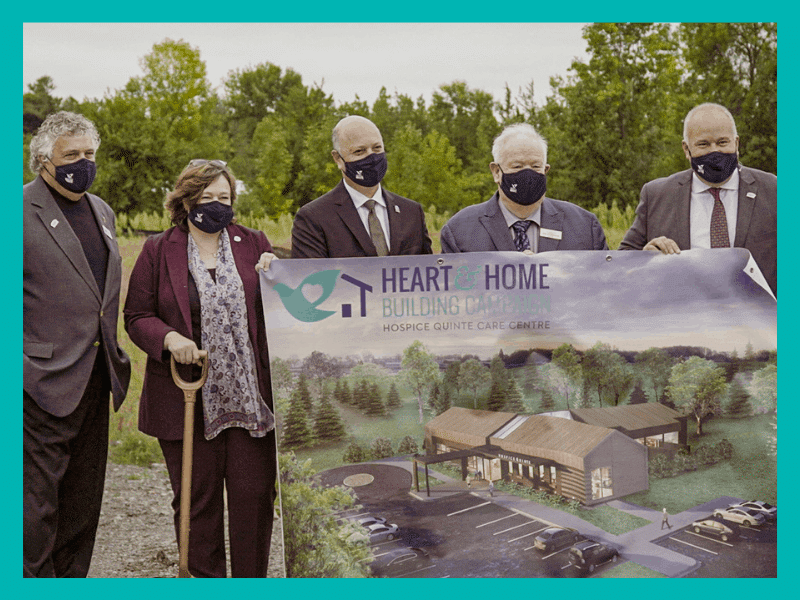 (photo credit: Josh Labelle, Blog BOQ – pictured left to right): (Bill MacKay (Hospice Quinte Board President), Jennifer May-Anderson (Hospice Quinte Executive Director), His Worship Belleville Mayor Mitch Panciuk, His Worship Quinte West Mayor Jim Harrison, and the Honourable MPP Todd Smith.
Bay of Quinte MPP Todd Smith, Quinte West Mayor Jim Harrison, Belleville Mayor Mitch Panciuk and other local dignitaries joined Hospice Quinte staff and board members in Bayside this morning for a special groundbreaking ceremony, kicking-off construction for the future Hospice Quinte Care Centre.
"Hospice Quinte has been working towards the dream of building a community-based Hospice Quinte Care Centre in our region for the past 10 years. Today, we are both humbled and honoured to celebrate the remarkable success, dedication and generosity of all of those who have enabled this dream to become a reality for our community." says Jennifer May-Anderson, Executive Director of Hospice Quinte. "I wish to thank our government partners including the Province of Ontario for its $1.2M dollar contribution, as well as the City of Quinte West, the City of Belleville, Tyendinaga Township and the many others whose overwhelming generosity has brought us to this celebratory milestone in our campaign."
"This great achievement is also due to the determination of the powerhouse team of our capital campaign Co-Chairs, Ross McDougall, and the late John Williams, who led the charge, along with many passionate campaign volunteers," adds May-Anderson.
The world-class hospice palliative care centre will be the first of its kind in our region and will fill a critical gap in services in our community. The 10,947 square foot, six-bed residence will provide palliative care for those in our community nearing the end of life. It will be an alternate place to go when a cure is no longer possible, and hospital or home care are no longer an option.
"The end-of-life journey can be a difficult time for families, but also a very meaningful one. Our Province is pleased to invest in Hospice Quinte's state-of-the-art residential centre, which will provide a warm and comforting care environment for its residents and their loved ones," said Bay of Quinte MPP Todd Smith. "Today's ground-breaking is a great milestone for our community."
The Hospice Quinte Care Centre is slated to open its doors in Fall 2021 and will provide no-cost, professional care 24 hours a day, 7 days a week, by a highly skilled team of physicians and allied health care providers who will focus on pain management and providing the greatest quality of life possible.